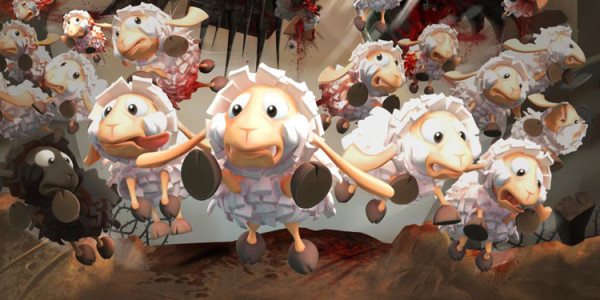 Shepherds!

We're but 2 days away from the launch of Flockers as a full game. It's been a hell of a journey through Early Access - together we've slain bugs, tweaked features and saved countless scores of sheep from their horrible, weaponised fate created by the Worms.

...we've also accidentally led countless scores more to their doom, but let's gloss over that minor hiccup.

We can't thank everyone who took part in our Early Access enough. Ewe've* been excellent. The feedback you have given us has helped us to make a really great game that is already getting brilliant reviews, both by players and the games press.

As small thanks, we've uploaded the release version of Flockers to Steam today. Anyone with Early Access can play the full Flockers experience 2 days before general release.

Here's the skinny on the release update:

New Stuff
5 New Campaign Levels, bringing the total level count to 60! (NOT including Bonus / Meat Maker levels)
1 New Bonus Level to unlock!
More Rewards available to unlock!

Bug Fixes & Tweaks
Fixed a crash that occassionally occurred when launching the game
Fixed a crash in the options menu
Fixed an OpenGL error that caused some users to be unable to launch the game
Fixed an issue effecting blood graphics on some Intel graphics cards
Made optimisations to min spec graphics cards – Flockers can now support Nvidia GeForce 8600 GS/AMD Radeon HD 4650 and equivalent.
Tweaked the loading screens to make transitioning between levels smoother

Over the next 2 days, we'll also be removing all the developer scores from the in-game leaderboards. Your scores will remain, and this is your chance to set the bar for the influx of new players heading to Flockers over the coming months. Do us proud, make them work for the top spot.

It's not all in-game though. We need your Meat Maker levels, your Guides, your Reviews and Discussions to help make the Flockers community an amazing place to be. I'll be highlighting the very best of your creations; in the forums, on Twitter, Facebook and here within Team17 too - we all can't wait to see what you can make!

From everyone here at Team17, thank ewe** for saving our sheep.

MT17

*That's the last time I'll do that during early access, I promise.

**I lied.